Eye twitching is an uncontrolled eye muscle contraction which is rarely a sign of a serious problem. It is annoying but often goes away on its own after a few hours or after a good night's sleep. If they don't go away, then you need to eliminate the potential causes.
What are eyelid twitches?
An eyelid twitch – sometimes called Blepharospasm, eyelid tics, eye twitching or eyelid spasms – is a repetitive, involuntary spasm of the eyelid muscle. A twitch usually occurs in the upper eyelid, but can occur in both the upper and lower eyelids. For most people these eyelid spasms are very mild or some people never even have any noticeable signs. However, in strong spasm cases, people may experience an eyelid spasm strong enough that it could force people to close their eyelid entirely.
Most eyelid spasms will go away on their own without doing anything about it. Spasms typically occur every few seconds for a minute or two. Episodes of eyelid twitching are unpredictable. The twitch may occur off and on for several days. Then, you may not experience any twitching for weeks or even months.
What causes eyelid twitches?

In addition to the most common causes of eyelid twitch – stress, fatigue, and caffeine, the following facts may be causing mild eyelid spasms:
Lack of sleep
Alcohol consumption
Smoking
Inflammation of the eyelid
Dry eyes
Corneal abrasion (from overuse of contact lens, tree branch, or flying debris from a power tool)
Medication side effects
Irritation of the eye surface or inner eyelids by environmental irritants such as the wind, bright light, or air pollution
Eyelid strain especially if you stare at a computer screen for hours
Physical exertion
Eye twitching may be a side effect of drugs such as…
Drugs for Parkinson's disease such as levodopa.
Benzodiazepine drugs prescribed for insomnia, anxiety, seizures, alcohol withdrawal, muscle spasms, and some premedications before certain medical or dental procedures.
Drugs used in estrogen hormone replacement therapy.
Anti-psychotics such as olanzapine used to treat mental conditions such as schizophrenia and bipolar disorder.
medication used to treat epilepsy and psychosis
Complications of eyelid twitches


If the condition becomes worse over time, it may eventually cause blurry vision, increased sensitivity to light, and facial spasms.
In rare cases, eyelid spasms may be an early warning sign of nerve-based disorder called benign essential blepharospasm (BEB), especially if the eyelid spasms occur with other facial twitches or uncontrollable movements. BEB is a rare (approximately 5 per 100,000 individuals in US) neurological disorder in which affected individuals experience involuntary muscle spasms and contractions of the muscles around the eyes. For more information about BEB, go to this website.
Even more rarely, eyelid spasms can be  a symptom of a more serious brain or nerve disorder such as multiple sclerosis (MS), Parkinson's disease , Bell's palsy (facial palsy), dystonia, cervical dystonia (spasmodic torticollis), Tourette's syndrome.
If you're having continuous eyelid spasms lasting more than a few days or any of the following also happens, you need to see your eye doctor or physician:
Your eye is red, swollen, or has an unusual discharge.
Your upper eyelid is suddenly drooping.
Your eyelid completely closes each time your eyelids twitch.
The twitching doesn't go away within a few weeks
The twitching begins affecting other parts of your face or body as well.
Holistic ways to ease and prevent mild eyelid twitches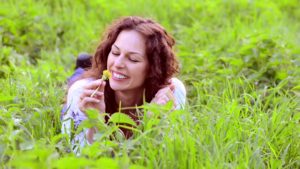 Most eyelid spasms go away without treatment in a few days or weeks. If they don't go away, you probably want to eliminate or decrease potential causes. To ease eye twitching or prevent future episodes, try the following:
Drink less caffeine or better yet eliminate it completely.
Get sufficient sleep as fatigue can affect your nervous system and could bring twitchy eyes.
Practice relaxation that brings you peace and stress-relief such as massage, deep breathing, and palming,
Avoid alcohol and tobacco.
Avoid eyestrain by practicing the Bates Method of relaxation and movement, especially if you stare at a computer screen for hours. Also set a periodic timer to remind you to take a break, stretch, and do near-far sketching to give your eyes, body, and mind a break.
Do yoga, visualization, positive affirmation, and meditation to relax your body and mind.
If your eyes start feeling scratchy due to allergens, smog, or other environmental irritants, avoid those irritants and do things that lubricate your eyes such as using natural eye drops, and activities that create tear production (yawning, butterfly blinking, or acupressure point massage) to wash out those irritants.
Magnesium is critical for your nervous system and muscle functions (even delicate eye muscles). The foods rich in magnesium include raw cacao, green leafy vegetables (Kale, Swiss chard, spinach, etc.), fruit (banana, apricot, melons, plum), legumes (peas, lentils), nuts (almonds, walnuts, cashews, hazelnuts, avocado). B-vitamins are also important for the nervous system. See the future post on "How to strengthen your nervous system" and "Foods that are good for your eyes."
Be sure to drink enough water to lubricate your eyes. Read an article about the benefits of drinking water here…
Strengthen your eye muscles by doing

eyelid muscle toning practices

as described in droopy eyelid blog post here…..
Avoid pharmaceutical drugs by healing your ill conditions holistically using natural remedies and your body's innate healing abilities.
If you need help on your natural healing of eye twitches, contact us at HappyEyesight.
Mimi Shekoski, PhD, Natural Vision Teacher | Holistic Natural Health Doctor
Reference: http://www.healthline.com/health; http://www.mayoclinic.org/symptoms/eye-twitching
Note: Nothing in this blog post is to be construed as medical advice, nor is it intended to replace the recommendations of a medical professional. For specific questions, please see your eye care practitioner.