When  people start seeing those annoying eye floaters in their eyes, they get concerned about them. What are they? Why am I seeing these?
Relax! These eye floaters are generally considered more of a nuisance than a symptom of serious problems (unless there is a sudden increase in the number and location of floaters). In fact, Dr. Bates, after examining so many people with floating specks, said they are simply an illusion resulting from mental and eye strain.
In this article we'll explore what might be causing eye floaters and what you could do to get rid of them naturally in non-serious cases.
What are eye floaters?
Eye floaters are tiny specks or strings that float into your field of vision. They may look like black or grey dots, blobs, lines, strands or cobwebs. If you have a large floater, it may cast a shadow over your vision field and cause a large, dark spot in your sight.
The eyes bring the image we see in the form of light. This light comes in through the front of the eye – the cornea and lens, passes through the vitreous humor, and be focused onto the retina at the back of the eye.  The vitreous humor is thick, a jelly-like substance inside your eyeball.
When there are clumped debris floating around the vitreous humor, it can be caught in the path of the light and cast shadows on your retina, causing eye floaters.
It's ordinary to see eye floaters move as your eyes move because they are inside the fluid of  vitreous humor. Eye floaters may exist in only one eye, or in both eyes.
Possible Causes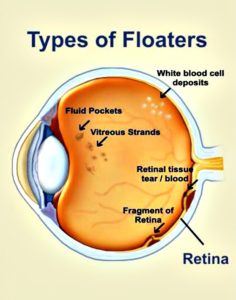 Stress could contribute to the generation of floaters. After all, seeing occurs in the brain!
Changes to the vitreous humor can lead to eye floaters. It's a general belief that as we age, the thick vitreous gel begins to liquefy resulting in the shrinkage of the vitreous. When this happens, protein that comes off the connective tissue of the vitreous is released into the vitreous gel.
Prolonged nearsightedness (myopia) gives people higher chance of developing eye floaters because (1) their retina gets thinner, leading to retinal tears and detachment; (2) the vitreous gel becomes liquefy at a faster pace.
Diabetics tend to see more floaters because diabetes (or too much sugar in the blood) can damage or weaken the blood vessels in the eye. For more info, go here…
Congestion in your digestive tract – colon, liver, and kidneys – can contribute to the eye floaters. In Chinese Medicine, the eye floaters are diagnosed as undigested foods, leading to clumped protein floating in the vitreous. When people with food allergies get eye floaters, they might want to consider changing their diet to follow the food combining rules. Here's a great book on digestion friendly foods and food combining rules that will make you get rid of these annoying floaters and get super-healthy at the same time.
Injury or trauma to the eye may also cause spots and floaters.
Inflammation and swelling in the eye from infection can cause eye floaters.
Some prescription drugs can cause floaters.
People who had cataract surgery frequently report of seeing eye floaters. It could be from the  complications of cataract surgery.
When do I need to see an ophthalmologist for these floaters?
If you see a sudden increase in floaters or a ring of floaters towards the ear-side of your eyes, you should see your ophthalmologist immediately!
How to get rid of eye floaters holistically – for mild cases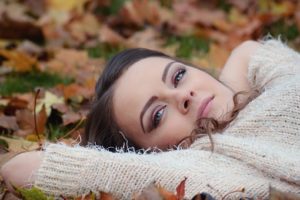 Eye floaters normally require no treatment. They usually fade away, and over time most people don't notice floaters as often because the brain learns to filter out the visual interference.
Many people we helped out with floaters did self-healing by doing one or all of the followings:
Practice relaxation of the eyes and mind by doing the Bates Method, especially the palming with deep breathing and visualization of a pleasant image. Many people got rid of their floaters just doing this. Read the testimonials below.
Modify eating habits by consuming digestion friendly foods with lots of anti-oxidant (such as colorful fresh fruits and vegetables, dark greens) and detoxifying the colon.
Cut down on refined sugar as too much sugar in your blood damages or weakens the blood vessels.
Testimonial:
I used to see those annoying eye floaters for many years. After practicing what you showed me to improve my eyesight for a couple of months, I don't notice the floaters anymore. My family says I'm also calmer and happier. Being almost 70 years old, it's so wonderful that now I can read without glasses as well as getting those extra benefits. Thanks for your coaching me. You're a great coach!
–Amy Lombard, Phoenix, Az
Those bothersome floating specks in my eyes must had been from my unhealthy body in the past. Now I'm much healthier and leaner by eating better and detoxifying my body periodically, I don't even remember when I saw those floaters the last time.
–Paul J., Crystal Lake, IL
I was quite scared when I started seeing floaters a lot. Following your advice – palming, deep breathing, detoxing my colon, eating healthier, I don't see the floaters like I used to. Once in a blue moon, when I see a tiny strand in my eye, I just ignore it and focus on something else. This seems to take care of it, which I'm very happy about. Thanks for your excellent suggestions on floaters!
–Sally A. Michigan
Yes, it's that simple! If you need our support on your self-healing or self-empowerment, contact us at HappyEyesight.
For your naturally clear eyes!
Mimi Shekoski, PhD, Natural Vision Teacher |  Holistic Natural Health Doctor
(references:http://www.nei.nih.gov/health/floaters/floaters.asp#1)
Note: Nothing in this blog post is to be construed as medical advice, nor is it intended to replace the recommendations of a medical professional. For specific questions, please see your eye care practitioner.