Suddenly, after you turn 40, 45, or 50, you cannot read the restaurant menus or small prints. This is NOT the curse of reaching middle age, as you might have been told.
It' a common belief that poor reading vision is unavoidable consequence as we age. Natural vision students who are over 40 told me what their eye doctors said, "You are over 40, your eyesight is downhill from here," or "You are just getting old, nothing else can be done," or "Your lens is hard as a stone, nobody can help you with that."
There are, however, many people who are well over the age of 40, 45, 50, even 90 have perfect vision at all distances. These non-presbyopians can read fine prints at 4-6 inches away from their face and do not need reading glasses  or magnifying glass to see small objects in detail.
Easy to Correct Naturally!
As a natural vision improvement teacher, I find that this condition is the easiest and fastest one to correct. In fact, I healed my own old-age reading problem within a month using the Bates Method and EFT. I was so impressed that I decided to teach these incredibly simple and super-effective techniques with others.
WHAT IS PRESBYOPIA
 
Presbyopia is popularly called middle-age or old-age sight where close-up reading becomes tough. This reading difficulty happens when the focusing power has declined to the point, where you cannot read the menu at a restaurant, small prints on the magazines or books.
Initial Symptoms of Presbyopia
You have difficulty reading fine prints and seeing small objects clearly. Reading books, restaurant menus, labels on the back of the vitamin bottles, or threading a needle is becoming difficult.
You have to stretch your arms to push the book or an object further and further away from your eyes, in an attempt to read.
Difficulty seeing in dim light.
Reading small print gives you headaches and eyestrain.
Prevalence of Presbyopia
Nearly 111 million people in US (34% of population) have this middle-age vision condition. This population is expected to reach nearly 123 million people by 2020, representing about 10 percent increase over 7 years. (Alcon news 2013)
How about worldwide? Almost 1.7 billion people have presbyopia, which is a whopping 22% of the world population. This number is expected to be increased to 2.1 billion by 2020, representing 23 percent increase over 8 years. (Market Scope 2012)
WHAT CAUSES PRESBYOPIA
The common belief why we lose the focusing power to see closeup images clearly is that as we age, the lens gets hardened along with the ciliary muscle around the lens gets weakened.
It's not the hardened lenses causing presbyopia!
According to Dr. Bates, this common theory does not hold the truth, because
For some people, the shape or the thickness of the lens stays unchanged throughout their life.
The ciliary muscle is not a contributing factor for focusing power, therefore its weakness doesn't matter.
Some people's eyesight stays perfectly clear in all distances easily up through the age of ninety or through their whole life time.
Some people, in so-called presbyopic age, can see clearly at near-point but have trouble seeing objects in distance.
Then what are the possible causes?
Adding more to what Dr. Bates said about 100 years ago, one or more of the following factors seem to be the root causes for presbyopia in this modern world:
Emotional and mental stress
Lasik or PRK surgery
Distance, bifocal, or reading glasses or contact lenses, causing inflexibility and strain in your visual system
Strain to see near points
Belief that you are in the presbyopic age and nothing can be done; and start using reading glasses
Loss of converging/focusing power in your visual system – your eye muscles, brain, and mind. 
Conventional vision correction 
The following is usually recommended by eye doctors to correct your presbyopic symptoms:
Reading glasses
Bifocals, Trifocals, or progressive lenses
Surgical correction such as Kamra corneal inlay, Raindrop Near Vision Inlay, The Presbia Flexivue Microlens, Conductive keratoplasty, monovision LASIK, Refractive lens exchange or PresbyLASIK.
HOLISTIC WAYS TO HEAL PRESBYOPIA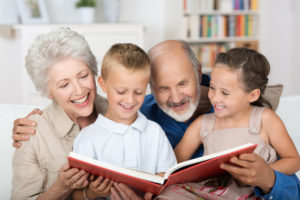 Although the person might not be aware of it, people who have presbyopic condition usually have lowered focusing power for the distance as well. As one lady puts it, "In the beginning, I was using reading glasses with +1.25. Now after 4 years, I have to use +3.75 glasses and my distance vision is also getting worse." 
This is another reason why natural vision improvement method is very beneficial because it typically enhances both near and far vision at the same time. 
Correcting presbyopia naturally is that simple!
As stated above, correcting presbyopia is rather simple and easy. It usually takes a week to a month of time, practicing 5-15 minutes a day. We utilize the following simple yet very effective methods:
The Bates Method to bring relaxation to the eyes and mind.
Fusion (converging) techniques to train the visual system – the eyes, brain, and mind – to balance and extend for better vision.
Emotional freedom technique to reduce your stress and clear bad emotions, if needed.
Testimonial:
"It was so amazing! After a coaching session with Mimi for an hour, I could see tiny prints! Before this, I could not even read any menus in restaurants without my reading glasses. Small prints without glasses just looked like black lines. Next day, I could also read those unclear pinkish prints in my bible story book, for which I had to use a magnifying glass on top of my reading glasses to read these dim prints before. When Mimi told me it's very simple to correct old-age sight, I didn't believe her. How could I read small prints? I'm 67 years old and have been using reading glasses for the last 10+ years! None of my friends of my age can read without glasses! It was almost like a miracle happened to my sight. Mimi showed me a few simple relaxation techniques, asked me to imagine something pleasant, and let me practice with a chart for a while, and that was it. When Mimi said "OK, before you leave, let's see if you can read small prints," I could read the whole chart all the way down to the bottom which had small letters and also another hand-held card with very tiny prints. Mimi said "Oh my god, you're reading the print size 5! When you first came in, you could only read the line with font size 18." I'm still so amazed and cannot wait to tell my friends."
–Michelle N., Tamarac, FL
"I'm in my mid 70's and have been using reading glasses for many years. I took Mimi's intro class on "reading fine prints". When I told Mimi my left eye was much weaker, and cannot practice convergence properly yet, she told me to use pinhole glasses to do closeup work or reading at home. After using pinhole glasses for about a week to read for about 45 minutes to an hour every day, I don't need reading glasses anymore. In a week, my left eye could read font size 20 (it was font 26 a week ago) and my right eye from font size 9 to font 5. With both eyes, now I'm reading font size 5, so no more glasses needed. I'm also seeing things/labels much easily. Now I can focus on strengthening my weak left eye with patching."
–Ann, Chicago, Illinois
"For about 10 days for total of 7 to 8 minutes a day, I practiced the merging technique Mimi taught us at the "reading fine prints" class. Now I can read small prints! I went to Trader Joe's today, I could read labels without reading glasses! In the past, I'd whip out my readers with no hesitation. I am so excited!"
— Maggie, Highland Park, Illinois
"About a year ago after I turned 43, I started having trouble seeing fine prints. My wife read a book written by Dr. Bates on Natural Vision Improvement, and thought I could be helped and found Dr. Mimi. Mimi said I probably needed 2 sessions to correct this problem as I haven't worn glasses in the past. Mimi was correct! Within a week of practicing some relaxation and convergence with a chart, I could read the font size 5 prints from normal reading distance. Along with the near vision, my distance vision also improved, now I'm reading 20/13 line on the Snellen Chart 20 feet away, all within a week of time! I love this NVI."
–Dan E. Chapel Hills, North Carolina
If you need assistance to correct your presbyopia naturally, contact us at HappyEyesight.
With love and seeing!
Mimi Shekoski, PhD, Natural Vision Teacher | Holistic Natural Health Doctor
Note: Nothing in this blog post is to be construed as medical advice, nor is it intended to replace the recommendations of a medical professional. For specific questions, please see your eye care practitioner.